Morris Brick & Stone Company is an authorized retailer of new brick for a variety of manufacturers.  We stock over 20 types of brick in a wide range of sizes and colors!
Directly in front of our main office, you will find our display area dedicated to clay brick pavers (horizontal applications) and clay brick veneer (vertical applications).
Brick's universal appeal is founded on several compelling qualities including comfort, enduring beauty, style and craftsmanship.
If you are considering a landscape project, please visit Morris Brick and Stone for a wide variety of design ideas. Here's a list of some the manufacturers we handle:
Belden
Carolina Ceramics
Cloud Ceramics
Cushwa
Glen-Gery
General Shale (formally Robinson)
KF Brick
Nitterhouse
Pine Hall
Redland Brick
Statesville
Watsontown
And Many More. . .
Outdoor Display Area
Our updated outdoor display areas feature new and used brick in vertical and horizontal applications.
The outdoor brick display area is open 7 days a week from dawn until dusk.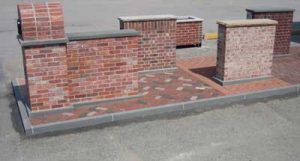 Indoor Showroom
Our indoor brick showroom features a wide variety of in-stock and special order clay brick.
The indoor brick showroom is open during normal business hours.